This week started off with our exciting Hoot Scoot! We are so proud of earning the 2nd place prize of a popcorn and movie party at school! More information will be coming home about this soon!
We learned a few new letters in Phonics– Cc, Dd, and Ff. One activity we always do when learning letters is hunting around the room for items that begin with the letter we are studying. Here we are with the many C items we found in our classroom!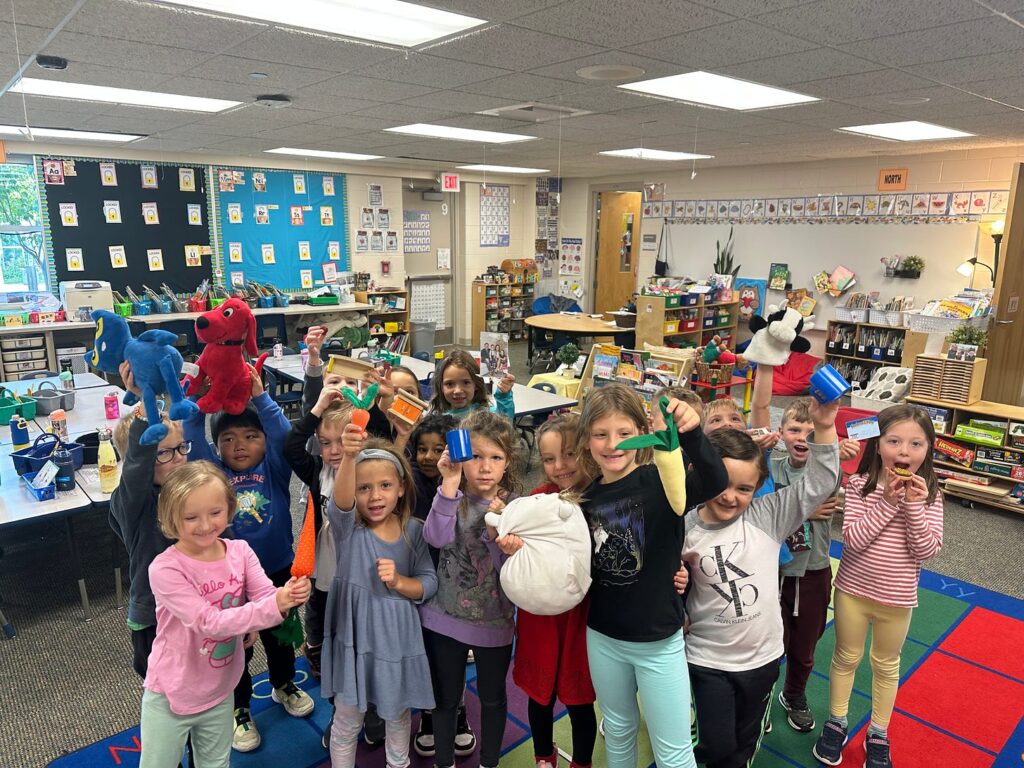 In Reading Workshop, students continue to read their star storybooks. We learned about making sure our voices match the characters and using connecting words as we retell our stories. I hope you are enjoying reading these special books with your child each evening. Thank you for being sure your child returns their book to school the following morning in their Red Owl Folder.
We learned about a new tool in Math, a number rack. This tool uses 10 red and white beads and helps us visualize combinations to ten. We each made our own mini-number rack to use in future lessons!
The writers in our room are really focusing on stretching out our words and challenging our selves to give it a try, even if it seems hard in Writing Workshop. We do spend a good amount of time on this skill and revisit it often throughout the year in kindergarten. At home, keep encouraging your child to say a word slowly, listen for the sounds, and then write the letters when they ask you to spell something. As I tell the kids, I'd rather have them give it a try, that is not perfect, than not try at all!
The students were introduced to Indigenous Peoples' Day this week in Social Studies. We learned that the reason we did not have school on Monday was to have time to think and learn about the cultures and traditions of people whose families are native to where we live now. We looked at a globe to find Michigan, The United State and North America. We also read the story, Powwow Day to help us visualize and learn about special dances some Indigenous people celebrate with.
---
We will be going on a field trip to Dinosaur Hill on Monday, November 6th! We will take a quick bus ride there to learn all about living things and their habitats! A permission slip will be in your child's Red Owl folder Monday.

We can take along 4 chaperones with us. If you are interested in joining us, please write a note and send it to school in your child's folder before Friday, October 27th. Chaperones must be able to join us at school at 11:45, ride the bus with us and stay until our return to North Hill at 1:50. I'll pull names from those notes and email out who is coming along on the 27th. Unfortunately, this is the only kindergarten field trip scheduled for this school year. If you are not able to join us, there are more great opportunities to volunteer at centers and at PTA sponsored events.

The Kindergarten Team shares art supplies and we are running low on the following items. If you see a good deal on these while you are out, we would appreciate you picking them up for us!

googly eyes, pom poms, regular size pinching clothespins, cotton balls, q-tips, paper lunch bags, white thin paper plates, plastic bowls

Keep up to date with our PTA and all the fun they have in store for us this year!